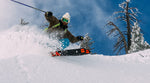 CBD For Winter Sports Recovery
It's no wonder that skiing and snowboarding are so popular. These winter sports provide the most human-powered fun and thrills that winter has to offer. The pursuit of fresh powder snow and the adrenaline of fast, steep turns entice many riders to push their physical limits. Skiers and riders wake up at the crack of dawn and take lap-after-lap, not stopping until the lifts close at sunset. However, every experienced skier and snowboarder knows the exhaustion that comes while walking back to the resort parking lot. Skiing and snowboarding can take a physical toll on the body resulting in boot-induced foot pain, achey knees, wipeout bruises, and sore, burning quad muscles.
Delayed onset muscle soreness is caused by microscopic tears to muscle fibers after intense physical activity. This often occurs when training outside of your comfort zone, or at the beginning of the season before you have attained peak fitness. There are no ways to speed the recovery of those torn muscle fibers. However, CBD can help mitigate the discomfort while you recover. Research shows that CBD has potential to relieve pain and inflammation [1], which are common complaints that every athlete must deal with after intense exercise.
Traditionally cannabis has been used to relax and treat pain after a long day on the mountain. However, some skiers and snowboarders would rather avoid the unwanted side effects of THC. Cannabis high in THC can cause unpleasant side effects such as paranoia, anxiety, and fierce food cravings. Food cravings can be an unwelcome challenge for athletes on a performance diet. It takes a lot of mental discipline to resist the pizza and junk food in the ski resort lodge.
Now, we have access to strains of cannabis that are bred to be rich in CBD and very low in THC. Many athletes are discovering they enjoy the benefits of high-CBD cannabis strains. In fact, CBD has substantial anti-anxiety effects and does not cause the munchies. CBD-rich cannabis can help with all types of musculoskeletal complaints: joint pain, muscle stiffness, and inflammation. This can be a very soothing tool to have while on vacation in an unfamiliar place. Choosing to unwind and recover with CBD means athletes get all the same benefits of traditional cannabis medicine without the negative psychoactive effects.
Vermont Select's products are lab-tested. Our strains test high in CBD, ranging from 8-22% depending on the strain. All our strains are incredibly low in delta-9 THC, under 0.3%. This results in maximum relaxation with no distinguishable effects from THC.
While you're in Vermont visiting one of our renown mountain vacation resorts, try some Vermont grown smoking-grade hemp. Consider reaching for a relaxing pre-roll while out on the patio; or pack up your favorite vaporizer with our CBD flower while you get comfy on the couch. Vermont Select's CBD products can be a great addition to your post-winter sports recovery regimen.
 References
[1] Kerstin Iffland and Franjo Grotenhermen.Cannabis and Cannabinoid Research.Dec 2017.139-154.http://doi.org/10.1089/can.2016.0034
Image credits: skier, Robson Hatsukami Morgan snowboarder, Tyler Tornberg