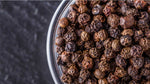 Terpene Profiles: Caryophyllene
Caryophyllene, more formally -β-caryophyllene, is a terpene found in various herbs and spices. Terpenes serve special functions in plants. Caryophyllene is known for its spicy, woody, peppery aroma it gives to cloves and black pepper. This is likely a defensive mechanism to tell animals and insects, "Don't eat me!" but it happens that humans like the smell. Caryophyllene can also be found in black caraway, cannabis, hops, basil, oregano, lavender, rosemary, cinnamon, and ylang-ylang.

Caryophyllene is the only terpene to be able to directly activate endocannabinoid receptors in the human brain. Caryophyllene has a unique molecular structure which contains a cyclobutane ring, an oddity in nature. Its unique structure allows it to bind to CB2 receptors. 
A recent study at the Indiana University led by Sachiko Koyama discovered that mice that were given a topical application of caryophyllene and olive oil had enhanced "re-epithelialization", scab formation and healing. This research suggests that caryophyllene has the potential for therapeutic use, but there is much more to be discovered. 




References

Koyama, Sachiko & Purk, Anna & Kaur, Manpreet & Soini, Helena & Novotny, Milos & Davis, Keith & Kao, Cheng & Matsunami, Hiroaki & Mescher, Anthony. (2019). Beta-caryophyllene enhances wound healing through multiple routes. PLOS ONE. 14. e0216104. 10.1371/journal.pone.0216104.